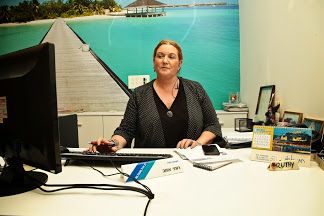 Ruthy Ezov - travel agent/consultant since 1980.
Over the years, I have worked for a number of travel agencies - Gama Tours, Jerusalem, RishonTours, Rishon LeZion, Diesenhaus in the Science Park, Rehovoth, and Hadany Travel ,Rehovoth.
I have been working with Ofakim in Rehovoth since 2012.
I started freelancing in 1996 working with various travel agencies mainly handling business travel for companies, plants and small businesses with clients coming from all over Israel as well as from abroad.
My long list of satisfied clients includes:
Companies in the field of biotechnology such as: Kamada, Optonol Ltd., Valin Technologies, Mitralix, Analyst Labs and Harlan Israel, the Weizmann Institute of Science, Aspireo Pharmaceuticals and consultants such as, Orgram Chemicals Ltd. and Angel Pharmaceutical Consulting and Technologies (A.P.C.T) Ltd.
Attorneys, including Webb & Co., and Gross, Kleinhendler, Hodak, Halevy, Greenberg and Co. (GKH).
Hi-tech companies, businesses such as Future Electronics, Inosan Productions Ltd., Pie Films (Israel.
I specialize in the following types of trips:
the individual traveler
holiday packages
ski packages
sailing trips
family tree tours
family-oriented trips
organized tours
backpacker trips
car rentals and hotel accommodation
each trip is tailor-made to each and every client's requirements.
I am in constant touch with all the available communications and reservations systems (Sabre, Amadeus, Travelport) as well as with all the various internet providers (Expedia, Booking, Kayak etc.).
I can be contacted 24/7 every day of the week, all year round, and am able to quickly respond to and solve all requests, bookings or problems (unexpected strikes, last-minute flight cancellations, over-booking, flight seating arrangements, entry visas and any other urgent request). The wide and professional knowledge which I have accumulated over the years, and the fact that I am available to the client non-stop, enable me to give fast, efficient, accurate and reliable service, from start to finish as well as post-trip handling, if necessary. My professionalism, service and the close attention I give throughout all go to provide you with peace of mind and the guarantee of a great and successful trip.
Give it a try – take a trip and enjoy yourselves!